In Indiana this weekend, the derby world will be treated to the very first top-tier divisional tournament. The ten teams competing will have travelled almost 10,000 miles between them to get to Fort Wayne, IN.
And what a treat it looks to be. The first two days feature multiple mouth-watering potential match-ups that are simply too close to call–and several teams with equally strong claims on being pre-tournament favourites for the title and a first-round bye in Milwaukee in November.
The WFTDA rankings and S-curve seeding has left Fort Wayne with the most lopsided bracket in Division 1; the top three Flat Track Stats-ranked teams are all in the top half of the draw. That means all of the top six teams have a decent shot at securing medals–but two of those six will know by the end of Friday they'll be going home with nothing but a hatful of ranking points and the resolve to do better next year.
After the play-in games for the bottom seeds–Wasatch facing Grand Raggidy and Cincinnati facing Bleeding Heartland–things get very interesting very quickly. London versus Rose and Arch Rival versus Ohio are both likely to be very close encounters, and Saturday's semifinals look likely to be even closer, irrespective of which way Friday's bouts go.
One other point of interest on the Friday will be a potential Wasatch versus Montreal game; the Canadians have never won an opening-day playoff game, while Wasatch will be coming into this tournament looking to prove they are better than their ninth-placed finish at last year's Western Regionals showed. Montreal are heavily favoured–but we'd counsel you to not count the Utah team out entirely, especially if they lay a big win on Grand Raggidy earlier in the day.
Opening Day Match-Ups
Game previews and rosters: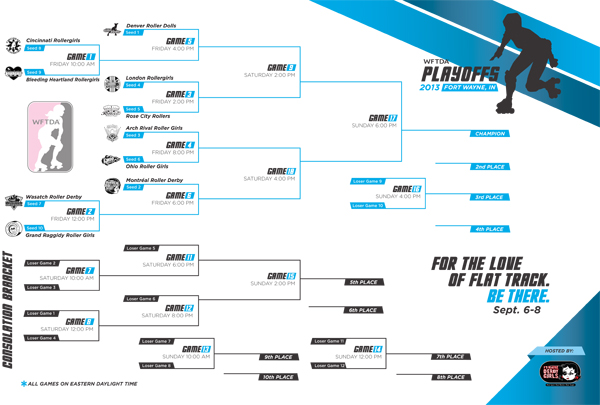 Download the bracket here (direct link to PDF).