This weekend, Virginia sees the second installment of the WFTDA Division 1 playoffs in the road towards Championships and the Hydra. And while this grouping of 10 leagues doesn't have as many travel miles behind them on the way to the tournament as last weekend's, it doesn't make the road travelled seem any less long, metaphorically-speaking, with many of the leagues experiencing key team additions or subtractions, and dramatic alterations in game play on the way to these end-of-WFTDA-season games.
As always, Saturday should be the heaviest game day, with much of the potential for serious seedings upsets and high score differentials behind us; Sunday will be focused on the final tense two bouts, when both Richmond's top entry and the #3 spot into Champs will be decided.
Friday is also notable for every bout but a possible two being untested match-ups, with only Philly versus Kansas City being a definite re-match. The penultimate game of the day, Texas versus the winner of Tampa vs Terminal City, is the other one with potentially no prior game history (Texas beat Tampa in their 2012 meeting, but hasn't played Terminal City).
This particular playoff is interesting for the clumped WFTDA rankings pairs present, with the #5 and #6 (Angel City, Texas), #13 and #14 (Naptown, Philly), #21 and #22 (Kansas City, No Coast), #29 and #30 (Tampa, Jacksonville) and #37 and #38 (New Hampshire, Terminal City) pairings all in attendance.
Opening Day Match-Ups
Game previews and rosters: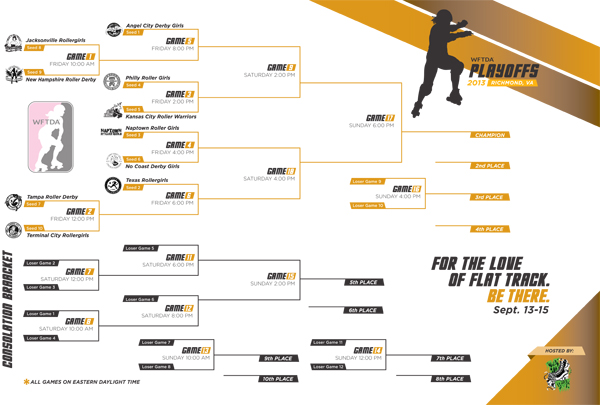 Download the bracket here (direct link to PDF).