SALEM, OR–The Women's Flat Track Derby Association drew the Championships bracket at the close of the last Division 1 Playoff. The four playoff winners–Gotham, Bay Area, Texas and Denver–have all earnt a first-round bye, while second- and third-place winners face a play-in round.
On the left side of the bracket, Philly Rollergirls and Windy City will battle for a date with Bay Area, and Ohio and Rat City face off for a chance to tackle perennial powerhouse Gotham.
On the right, London will meet Atlanta with the winner going up against Texas, while the winner of Rocky Mountain and Angel City will meet Denver.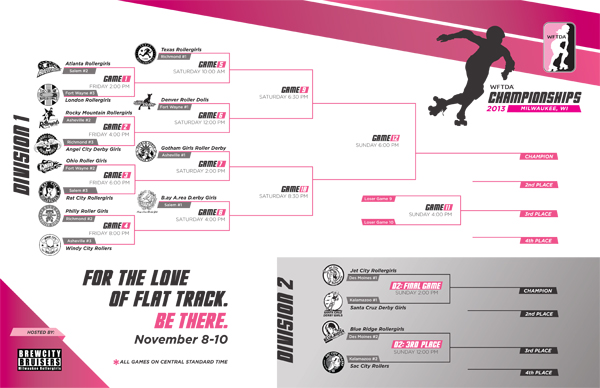 (Links to WFTDA PDF).
You can also find full schedule details on the WFTDA site.